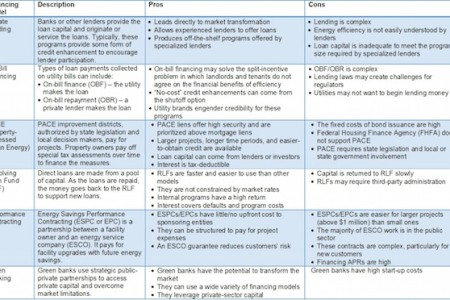 What does an effective energy efficiency financing program look like? On May 31 in San Francisco, American Council for an Energy-Efficient Economy (ACEEE) convened 23 representatives from across the country in a workshop led by Cadmus Group. They explored current challenges facing program designers.
Investors, entrepreneurs, asset managers, and regulators were all represented at the Energy Efficiency Finance 101 Pre-Conference Workshop. This workshop was part of the ACEEE Energy Efficiency Finance Forum.
According to Pat McGuckin, consultant with Cadmus Group, this workshop was the only program in which participants would "design [their] own financing programs by the end of the day." The hands-on workshop presented three real cases for participants to use.
Laura James, senior analyst at Cadmus Group, introduced the fundamental elements of a financing program—target markets, eligible improvements, funding sources, security, credit enhancement, and origination or servicing. She also presented the pros and cons of various financing program solutions, summarized in the table below.
"Working with the private sector can be the most direct way to allow lenders to do what they do best," James said.
It is important to consider each program's needs before using a specific financing solution.
McGuckin outlined four key takeaways for designers of energy efficiency finance programs:
Creative marketing, not financing, creates demand.
Contractor engagement is crucial.
Integrating the customer experience provides project insurance and establishes trust.
Stakeholder engagement strategically maps the beneficiaries, sponsors and allies of the financing program.
Evaluation challenges brought on by the pending federal Clean Power Plan revolve around the ownership of energy savings and measurement and verification (M&V). However, if utilities link M&V with their existing rebate programs, they can help simplify this complex system.
"We're still figuring out the nuts and bolts of this program design. It was good to see that no one has it all figured out," said Sam Baraso, ecosystem service project manager at the Willamette Partnership.
Join our LinkedIn group to discuss this article. You may also email the author directly using our contact form.