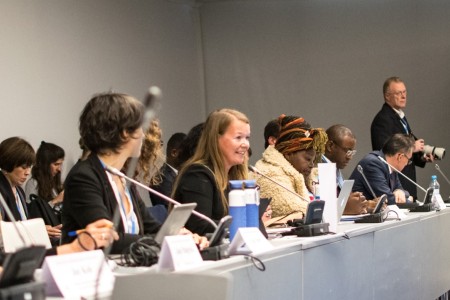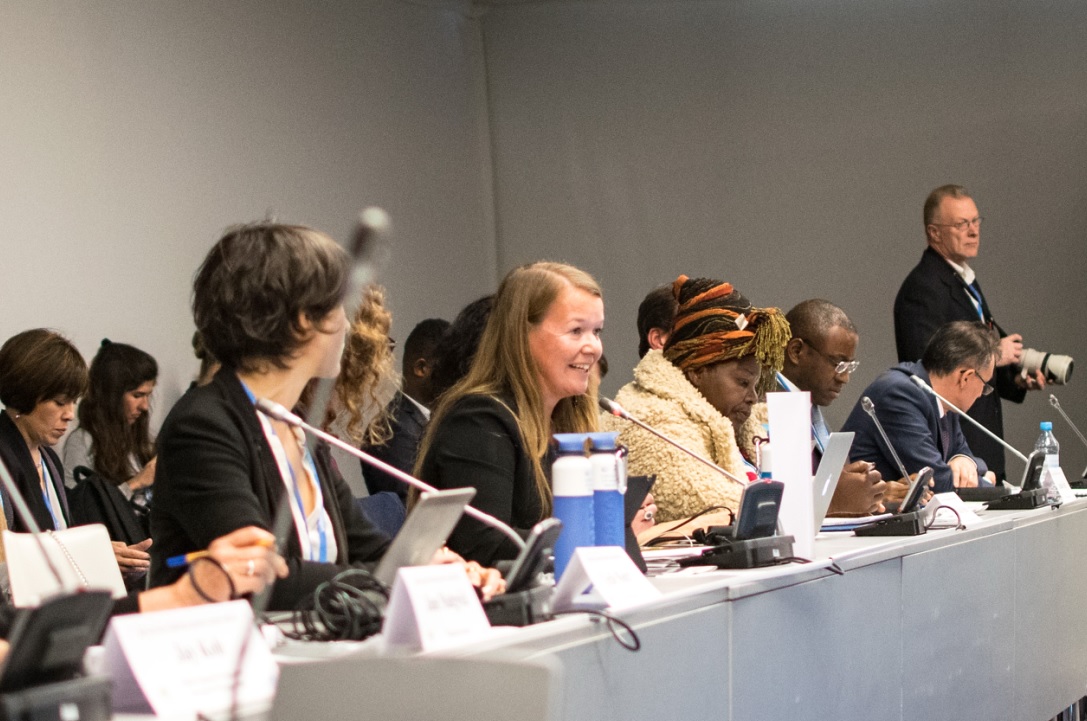 Momentum is building in the private sector for climate resilience financing. This necessary acceleration could help to avert the worst consequences of climate change. Financiers and others weighed in about their priorities and goals at COP23 in Germany on Nov. 13 in the Bonn Zone. They shared their thoughts and successes from developing pathways for resilience financing.
The guiding questions of the session "Unblocking Investment into Climate Resilience" included:
How can public finance address barriers to investments in climate resilience?
What do financial institutions need to be able to allocate capital for resilience projects?
What can governments do now to increase investments in resilience?
How are financial institutions newcomers to COP?
Why are financial institutions attending an international climate-negotiation conference? While financial institutions were well-represented at COP this year, this was not the case a few years ago.
John McKinley, director of impact investing at Blackrock, said the emergence of financial institutions at the COP climate talks is a relatively new occurrence. It reflects the growing interest among investors and asset managers in understanding climate risks.
Roelfien Kuijpers, global head of Deutsche Asset Management, said her team's interest in understanding economic impacts of climate change on their assets under management stemmed from an investor's request.
Across the board, financial institutions are beginning to ask for more information about how to quantify economic impacts of climate change from their portfolio companies. Therefore, they are looking for new investment opportunities that both satisfy their fiduciary duties to their investors and embrace good environmental, social and governance (ESG) practices. And they believe these opportunities can lie in climate financing.
During this panel, one particular financial vehicle was touted by multiple experts as a first-of-its-kind product for adaptation finance. It is called the Climate Resilience and Adaptation Finance and Technology Transfer Facility (CRAFT).  
What are the capital flows of climate financing?
According to Climate Policy Initiative, global expenditures on climate financing have steadily increased since 2012 with an average annual investment in 2015-2016 of $410 billion USD. The private sector, led by project developers and commercial financial institutions, has provided a growing share of the aforementioned climate financing. Meanwhile, public investment remains steady.
Multilateral organizations are also working to mobilize capital for climate financing. In 2014, the Green Climate Fund (GCF) raised pledges totaling $10.3 billion USD. GCF is currently working to raise $100 billion USD per year from now until 2020.
However, these figures from GCF and the annual expenditures to date fall far short of the total economic potential for climate investments.
The International Finance Corporation (IFC) estimates that there is a $23 trillion USD investment opportunity between now and 2030 with the market for climate-smart business estimated at $1 trillion USD today. The IFC report, Creating Markets for Climate Business, further outlines these opportunities.
What is resilience finance and how can it be unlocked?
Resilience financing is a subset of climate finance that includes adaptation projects which either eliminate impacts from climate change or reduce the amount of time it takes to recover.
According to the UNFCCC,"Adaptation refers to adjustments in ecological, social or economic systems in response to actual or expected climatic stimuli and their effects or impacts. It refers to changes in processes, practices, and structures to moderate potential damages or to benefit from opportunities associated with climate change."
Research from Climate Policy Initiative shows the majority of climate financing is funneled toward mitigation projects with less than 10 percent going to adaptation activities. A potential adaptation activity for drought scenarios could be a project that introduces a new drought-resistant crop or technology for efficient resource management.
Resilience and mitigation projects are not necessarily mutually exclusive. However, the focus on financing resilience specifically is particularly prudent given the current trajectory towards a 3°C scenario, which is a relatively severe outcome in terms of global health and stability.
Adaptation activities provide countries with relatively low carbon-emission rates the opportunity to prepare for the adverse impacts of a warming planet.
Resilience finance requires planners to acknowledge the impacts of natural hazards exacerbated by a changing climate. If they can incorporate this foresight into their economic-development plans, they invite private-sector engagement down the line.
Citing several investments in Zambia, Laura Tuck, VP for sustainable development at World Bank, described how early government expenditures on resilience projects such as pre-investment programs have allowed eventual engagement with the private sector to fund climate-resilient technologies for farmers.
What new financial tools are emerging?
Given the lack of adaptation financing, it is especially exciting that the "first dedicated commercial investment vehicle" for climate adaptation and resilience was announced last year.
CRAFT, a private growth equity fund, intends to invest in 10-20 companies. These will be companies that provide technologies and solutions for climate resilience. CRAFT will help the companies expand into the markets that most need their products and services.
For an overview of the design of this product, see the Global Innovation Lab for Climate Finance's webpage.
The New York-based Lightsmith Group has been leading the effort to launch CRAFT, working with the Global Innovation Lab for Climate Finance, which is an incubator. Currently, the fund has an initial pipeline of investments under due diligence and will go to market in 2018.
The emergence of products like these is encouraging and indicates the private sector is warming up to adaptation investments. Climate financiers appear hopeful that more investment vehicles will follow on the heels of the CRAFT pilot.
Join our LinkedIn group to discuss this article. You may also email the author directly using our contact form.