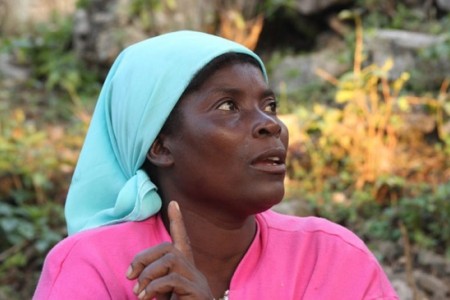 The recent United Nations (UN) report "Gender and Climate Finance" has said that climate finance can catalyze the transition to zero-carbon and climate-resilient development while addressing gender issues such as equality and empowerment.
While climate change is among the most urgent challenges of our time, it is critical to note that its impacts are not gender-neutral. The situation is worst for the most vulnerable and marginalized populations of the world. Women face additional difficulties as well.
According to the United Nations Framework Convention on Climate Change (UNFCCC), women commonly face higher risks and greater burdens from the impacts of climate change and global warming than men do.
The UN has made significant recent progress in elevating gender in climate change planning at the national and global levels.
Some examples include the Green Climate Fund (GCF), which was set up in 2010 to help support the transition to low-emission and climate-resilient development. This organization has included a gender-sensitive approach in its governing instrument. It also has a Gender Policy and Action Plan.
The Climate Investment Funds (CIF) are a set of financing instruments to support the transition toward climate-smart development in developing countries. It also has a Gender Action Plan that was approved in 2014.
The latest examples of progress come from the inclusion of gender dimensions in a selection of Intended Nationally Determined Contributions (INDCs). These were submitted under the United Nations Framework Convention on Climate Change in Paris.
The UN report on gender demonstrates that greater vulnerability of women to climate change can be traced to sociocultural barriers that result in the unequal distribution of labor, income and opportunities. Women have less access and control over land and other productive assets. They also have fewer legal rights, lesser geographic mobility, and lower political and professional representation.
The first reference to gender equality that contributed to advancing gender equality and women's empowerment appeared at COP7 in 2001. Despite these initial measures, gender considerations emerged only nine years later at COP16 in 2010. Finally, at COP18 in 2012, parties included "gender and climate" as a standing agenda item for COP sessions. It was collectively decided that gender-related issues should no longer be considered on an ad hoc basis under "any other business."
What monitoring requirements help include gender in climate finance measurement?
According to Evelyne Batamuliza, gender and climate change finance regional specialist at United Nations Development Programme Asia-Pacific Region (UNDP), her employer works directly with the Ministry of Finance to identify major issues in gender and poverty reduction for particular countries. Although the final decision about including gender-based climate financing lies with the government alone, UNDP helps to track where the funds are being allocated and how.
Based in Bangkok, Batamuliza is working on the "Governance for Climate Change" program. This is aimed at bringing the issues of climate change into the budgeting processes of governments.
According to Ciara Daniels, gender, results and reporting coordinator at UNDP's Global Environmental Finance Unit, her employer has country-level monitoring requirements that use various indicators that can be tracked to a country.
All projects report their progress against specific targets annually. They report on progress on their gender action plans and rate their behavior, Daniels said.
This information is analyzed and aggregated at the portfolio level for performance assessment, Daniels said. The aggregated results are published in an annual report. These projects also undergo a midterm review by a team of national and international consultants. The team makes recommendations for improving and managing the results based on the realities on the ground.
The team may do another midterm gender analysis, making changes to refine and improve what the project is doing. At the end of these projects, an independent evaluation team performs a terminal evaluation. This team gives the final verdict on how well the project did in achieving its goals.
Daniels works in UNDP's Global Environmental Finance (GEF) Unit, which is based in New York City. Her team helps partner countries access money from the environmental financing mechanisms like GEF and Green Climate Fund. Her role is focused on gender mainstreaming, quality assurance, and gender integration.
"We have a strong component of accountability and transparency in our programs, especially for our budgets," Batamuliza said. "We believe in better participation, which equals better equity in terms of ensuring that the budget investment and public finance are related to these issues. We work with a range of actors in terms of ensuring the accountability and transparency."
Who are the actors?
"First and foremost, it is the civil society," Batamuliza said. This also includes the media. This engagement is necessary because a lot of the processes are not known outside the Ministry of Finance.
"We also work with the Parliamentarians," Batamuliza said. "They ask critical questions when the budget is being presented. Last, we work with the auditors." The auditors determine if the money has been spent correctly on achieving its intended impact.
What successes have occurred?
According to three sources published by UNDP, successes are showing up in a few nations already.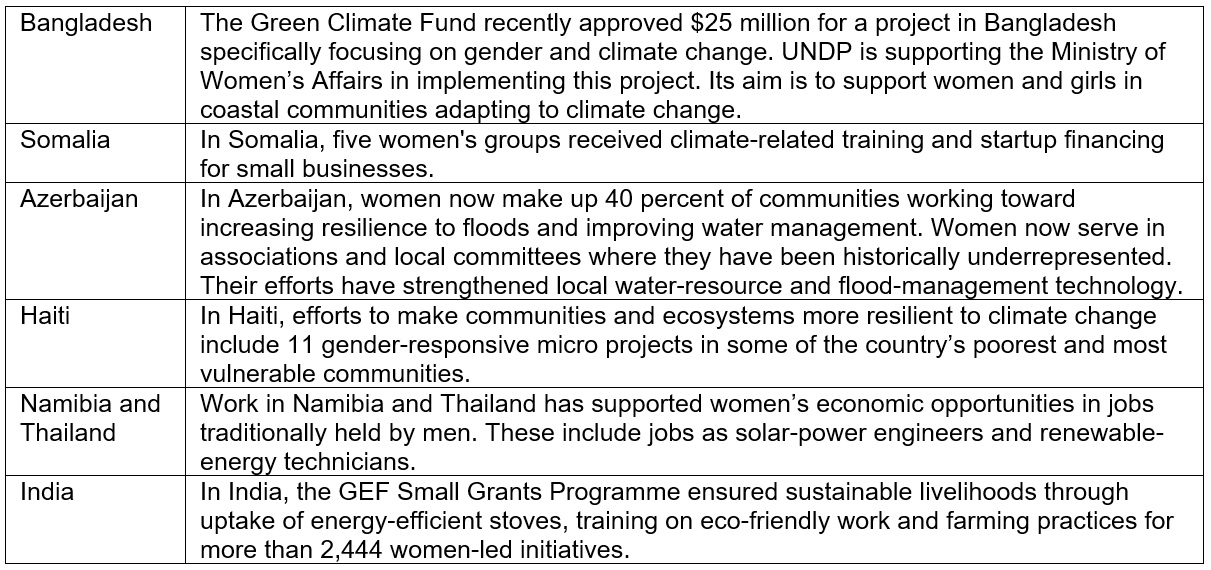 Climate change aggravates the burdens of unpaid care work, affecting women more than men. This also reduces their ability to adapt. CCAF (Climate Change Adaptation Facility) projects have implemented activities that aim to reduce women's time poverty to help strengthen their adaptive capacity.

In both cases, gender roles progressively changed as women reallocated time from domestic chores to other productive roles. They transitioned some of their time from raising animals and growing crops to participating in education and politics.
How can this become a high priority?
"I think we can do a better job of showing the link that I definitely see – the link between addressing gender equality and improved environment, climate and resilience outcomes. UNDP has this massive portfolio of projects doing this work and we see this link," Daniels said.
"The intersection of gender, human rights, and climate change is probably already established. We need to do much more in governing evidence and knowledge about the connection to climate change financing itself," Batamuliza said. "We also need to be mindful and aware that for all of this to happen, we should ensure that the gender situation in the country is approached holistically. There is much more work that needs to happen, especially when it comes to influencing budget reforms."
How does women's empowerment affect climate?
According to the UN report "Overview of Linkages between Gender and Climate Change," today there is a greater understanding of the need to include gender perspectives in climate change policies than there was before.
However, the report said, there are still considerable gender-based barriers across major international and national policy processes on climate change. Meaningful participation and economic empowerment of women will enhance the effectiveness and sustainability of climate change projects and programs. This would enable groups to address existing inequities while working towards fulfilling the respective international climate change agreements.
Despite these positive steps, it remains clear that much work remains to be done. Many women and girls are still unable to exercise their rights to be agents and beneficiaries of climate action or to participate fully in the shaping of such actions.
To ensure that climate finance efforts make a difference in building resilience and reducing vulnerability, gender equality and women's empowerment dimensions should be mainstreamed within all climate finance governance structures, the UN gender report said. Gender-based climate financing should be included in all phases of the project cycle – its design, implementation, monitoring and evaluation. It will only make a true difference if all of these are captured simultaneously.
Join our LinkedIn group to discuss this article. You may also email the author directly using our contact form.