In Brief
Last year, the majority of all the world's electric cars were sold in China. China's electric vehicle purchases exceeded U.S. sales by 2015 and in 2018, over 1.1 million electric cars were sold in the country.
The rise of EVs in China came in the wake of a series of top-down, trial-and-error policies and government investments.
Despite the different governing systems, some Chinese policies, tax exemptions or subsidies may provide models for places like the United States to accelerate growth in EVs.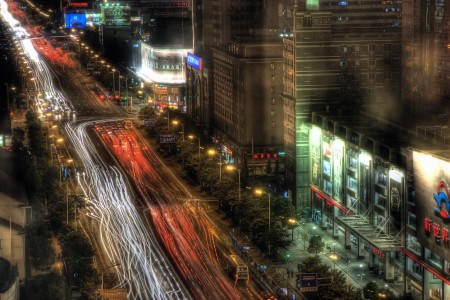 Although China's conventional auto industry has never matched that of nations like Germany, Japan or the United States, the nation has managed to outpace rivals in the production and adoption of electric vehicles (EVs). Last year, according to Finance & Commerce, the majority of all the world's electric cars were sold in China. China's electric vehicle purchases exceeded U.S. sales by 2015 and in 2018, over 1.1 million electric cars were sold in the country — a threefold increase over 2016 levels.
The vast majority of this growth has been captured by domestic firms. Though many of China's EV brands are largely unknown outside of their home market, companies like BYD, Chery, Geely and Zotye have become major players in the electric vehicle industry, accounting for 96% of EVs built and sold in China last year. Moreover, hundreds of millions of Chinese families don't own a car, and many now turn to EVs when making their first purchase. What explains China's impressive EV growth, and what lessons can policymakers around the world draw from the country's experience?
China's EV Development Pathway
The rise of EVs in China came in the wake of a series of top-down, trial-and-error policies and government investments. Over the past decade, the Chinese government spent nearly $60 billion to support the industry, a Quartz report said, as a market for EVs developed and consumer preferences shifted toward them. The government is looking to make an equivalent investment over the next 10 years.
The first step towards making China the EV powerhouse that it is today began in 1999, when the central government classified electric two-wheelers with maximum speeds of 12 miles per hour as "bicycles." That meant they could be ridden in bicycle lanes without a license or registration. These low-cost, motorized vehicles with designated space on the road then became more accessible to the masses. Over time, China became home to 99% of the world's 250 million electric two-wheelers. China's electric two-wheelers represent 80% of the global greenhouse gas emissions mitigated through electric vehicle use, Quartz author Akshat Rathi wrote.
In 2009, the country saw its push towards electric vehicles formalized by a declaration from the governing State Council making EVs one of the nine national "strategic" industries. According to Fortune magazine, China's leaders had taken note of the U.S. economic stimulus plan of 2009, which directed billions of dollars to green industries in the U.S. This catalyzed a conversation in the Chinese government about how the country could follow suit, and led to tax exemptions and government subsidies for battery makers, automakers and electric-car buyers. Citizens who were accustomed to electrified two-wheelers embraced the effort and the EV industry took off.
Fortune found that China's leaders also focused on steering consumers away from combustion-engine vehicles. In cities like Beijing, Shanghai and Shenzhen, local laws restrict access to license plates for combustion cars, but not for electric vehicles. In addition, China's relatively cheap electricity and extensive state-sponsored high-speed rails fostered driving patterns that skewed toward short city trips, facilitating the construction of effective car-charging infrastructure in densely populated, urban areas. All of these factors increased the prevalence of electric vehicles.
Later in 2009, the Chinese government started an initiative, dubbed the "Ten Cities, Thousand Vehicles" program, with the goal of turning the country into a leader in electric vehicles. The government selected ten key cities and instructed each city to develop its own electric vehicle rollout agenda, with the intent of testing and refining business models for the introduction of EVs around the country. The ultimate objective in each city was to launch 1,000 EVs into operation within three years. The "Ten Cities, Thousand Vehicles" program was successful in generating local enthusiasm for EVs and serves as an example of how China's national government uses municipal-level initiatives as pilot programs to explore the effectiveness of new policies.
Finally, the Chinese government has supported the charging infrastructure necessary for the deployment of EVs at scale. To showcase the nation's charging capacity, a fleet of eight Chinese electric vehicles completed a 10-day, 2,000-mile trip across the country in September 2018 in a project initiated by China's State Grid and China Southern Power Grid companies. The same year, State Grid reported that it planned to build 120,000 new public charging stations for electric cars by 2020. By way of comparison, a 2019 Columbia study found that China had 400,000 charging stations as of the end of 2018, while the United States had only 90,000.
Explaining China's EV Success
China's government understood early on that investing in EVs was to be a key component of its national economic development strategy, helping the country to tackle problem of urban air pollution. Environmental issues, especially the severe pollution found in some of China's cities, had the potential to lead to public outcry. In 2013, Chen Jiping, former leading member of the Communist Party's Committee of Political and Legislative Affairs, said that environmental issues had replaced land disputes as the major reason for political protest in China.
Chinese leaders began to see development of the electric vehicle industry as a way to reduce pollution and congestion in city centers. Furthermore, it helped Beijing gain an early lead in a promising industry, allowing for "technological leapfrogging," or the notion that areas with poorly developed technological or economic bases can move themselves rapidly through the adoption of modern technologies without going through intermediary steps — like skipping land-line phones for smartphones, or in this case, having families skip combustion-engine vehicles for EVs.
Evidence from China indicates that, as with many early technologies, coordination and cooperation between the public and private sectors were essential to developing the EV industry. This coordination may be possible in part because of the nation's single-party government, which allows leaders to launch transformational changes across the country with little political opposition. This is particularly important when there are many different stakeholders — in this case, car manufacturers, battery developers, charging infrastructure providers, local government and consumers — who must be aligned for success.
Though support of the EV industry is costly for the government — it is expected that many of China's 500 current EV startups will be bankrupt before 2025 — the subsidies also serve as a government job and educational effort. "From a pure economic sense, it seems like a waste of money," Feng An, executive director of China's Innovation Center for Energy and Transportation, told Bradley Berman of InsideEVs. "But you have to invest that money somewhere. So you train a new generation of engineers." The Chinese economy stands poised to reap the benefits of that training, Berman argued, even if not every EV company survives.
Learning From China's Growth
In some ways, the Chinese EV experience could perhaps have only happened in China. While not a uniquely Chinese phenomena, the high level of government investment and ability to create markets for EVs was facilitated by China's single-party system. Despite the different governing systems, some Chinese policies, tax exemptions or subsidies may provide models for places like the United States to accelerate growth in EVs.
Recent years have seen a resurgence of support for "industrial policy" in the United States, defined by the Donor Committee for Enterprise Development as the "strategic effort by the state to encourage the development and growth of a sector of the economy." The argument for the approach suggests that government support of certain industries might actually improve competitiveness and productivity growth in the long run by supporting high-potential, innovative sectors in their early stages when significant private sector funding is still unavailable. According to an August New York Times op-ed, a number of politicians and intellectuals —"left and right, 'populist' and 'establishment,' from Senator Marco Rubio to Senator Elizabeth Warren, Representative Alexandria Ocasio-Cortez to Senator Josh Hawley" — have voiced their support for industrial policy, as a response to both domestic pains and, as in the case of China's electric vehicle growth, the danger of being overtaken by foreign industries.
After all, the race to get ahead in the EV industry is not happening in a vacuum. As explained by Executive Director of the Paul Tsai China Center and Yale Law School professor Robert Williams, the backdrop to all of this is a broader transition in which Chinese firms are seeking to enter high-tech industries and compete with American companies. The "ballast," Williams said, between the U.S. and the Chinese economies has fallen away as a result of China's evolving economy. Whereas in previous years, the economic interdependence between the United States and China — with the United States playing the role of consumer and China the role of producer — had served as a buffer, today the two nations have gone "from complementary to competitive," said Williams. Thus, the struggle to be at the forefront of the electric vehicle industry is just one of a number of "races" between the U.S. and China to capture the technologies of the future with significant implications for both the winners and the losers.
While the Chinese experience does not necessarily offer a prescriptive series of steps that can or should be followed by other countries, understanding the trajectory of China's EV growth can provide lessons for policymakers in other countries. Increased tax exemptions or other subsidies, direct investment in charging stations across the country, and support for city-level pilot programs are just some of the policies that could be considered by U.S. leaders to push the domestic EV industry forward.
To comment on this article, please post in our LinkedIn group, contact us on Twitter, or use our contact form.