In Brief
With uncertainty marbling the real-estate market, some borrowers have started looking more closely at commercial-PACE programs that tie financing to energy efficiency. 
C-PACE lenders in several markets report an increase in queries, and activity, along with a general interest in new construction. 
Whatever the "office sector" looks and feels like in the future, programs exist and others look incipient to make smart energy use a key financing feature.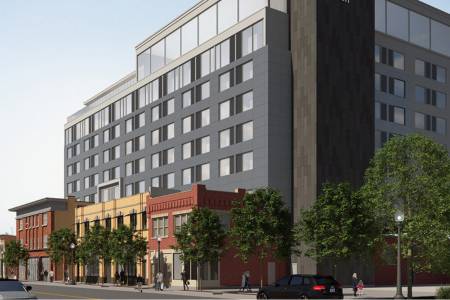 The severe human and economic toll of Covid-19 has injected high levels of uncertainty into the economy. Despite reduced overall levels of investment in Q1 and Q2 2020, interest in Commercial Property Assessed Clean Energy financing, or C- , has risen in some markets across the country.

 Commercial PACE is a financing tool that enables low-cost, long-term funding for energy efficiency, renewables and water conservation projects for commercial buildings. Commercial PACE is newer than its older sibling, Residential PACE (R-PACE). Similar to those R-PACE, C-PACE loans are attached to the property as an "additional assessment" to be paid along with property taxes. If the property is sold, the C-PACE "additional assessment" transfers with it – the loan is never attached to the owner personally.

Crucially, the loan can be paid back with the energy savings from the project itself. Usually, the utility savings that result from the improvements to the building match, or even exceed, the amount of the C-PACE payments. As a result, property owners who use C-PACE financing often see immediate cash flow positivity. In addition, C-PACE can cover up to 100% of a project's hard and soft costs, meaning that these projects require zero upfront expenditure.
 
C-PACE was growing at breakneck speed before the pandemic. In 2019, cumulative C-PACE investment surpassed $1.5 billion, and annual activity increased 150% to $670 million, according to data from PACENation, a national nonprofit that advocates for PACE financing. Now, despite the severe global crisis, C-PACE seems to be maintaining its momentum. Paul Scharfenberger, Executive Director of the Colorado Clean Energy Fund (CCEF), Colorado's "Green Bank", commented that there has actually been an increase in application volume for C-PACE financing in Colorado. He noticed that these new applications are coming in from two main groups: small business owners and property developers.

Small business owners can spend up to 30% of operating costs on utilities, especially energy-intensive small businesses like restaurants, convenience stores, and car dealerships that have high refrigeration, air conditioning, and lighting costs. According to the EPA's ENERGY STAR program, U.S. small businesses spend more than $60 billion per year on energy. Building owners recognize that they need to cut down on operating costs to stay afloat during these difficult times. Small businesses are expressing interest in C-PACE in Colorado as a way to reduce these high costs, and developers that have used C-PACE in the past to provide efficiency and solar upgrades have been taking the lead in selling these solutions to building owners.

On the other hand, property developers are applying for C-PACE as a means of selling more projects because their sales have likely slowed during the crisis. This group hopes that C-PACE financing will allow them to sell more projects by reducing their costs. Most of these new construction projects were in motion before the pandemic struck, but their planners are now looking to alternative financing options as they go ahead with their projects. Many of these developers had been aware of C-PACE prior to the pandemic, but had not used it extensively. While it is not guaranteed that the recent increase in C-PACE applications for new construction will actually convert into loans, it is a good sign.  
 
Scharfenberger speculated as to why we may be seeing greater interest in C-PACE right now. The first reason he noted is that dire market conditions mean that credit markets are tight, forcing developers and property owners to become more creative in their financing. Though they had heard of C-PACE before, the recession is pushing them to seriously consider using C-PACE, in the process realizing that it is more flexible and affordable than previously believed. The second reason is that developers and property owners in Colorado have simply developed a better understanding of C-PACE, especially for new construction rather than just efficiency retrofits, which had typically been the case.
  
The increased interest in C-PACE comes as welcome news for the growing number of private lenders that operate in the clean energy space. One of the largest such lenders is Greenworks Lending, a Connecticut-based capital provider that specializes in providing financing nationwide for C-PACE projects. Greenworks recently raised an additional $150 million in committed capital from Nuveen, the investment manager of TIAA.
Lucas Johnson, Associate Director of at Greenworks and 2018 graduate of Yale's MBA/MEM program, noted that Greenworks's strategy revolves around solar energy, new construction, and energy efficiency retrofit projects. When asked about how Covid-19 has affected Greenworks' business, Johnson noted an uptick, from those who are looking for extra cash during tough times and those who are looking to finance their new construction. Property owners who have made efficiency improvements to their properties in the past 3 years but did not use C-PACE are able to retroactively take out loans against their properties. Johnson said that this option has been popular as many owners are looking to get cash on hand because of liquidity needs arising out of the pandemic. Like Scharfenberger, Johnson agreed that interest in new construction is increasing – and he hopes this increased interest will convert into financing deals.  


C-PACE consumer education and lobbying has been a multi-year process for Greenworks, and Johnson said that he "hopes that it [C-PACE] expands to all 50 states and becomes a go-to method for clean energy financing… We can expect this as it becomes a more widely known option." The development of C-PACE, and PACE more broadly, has been years in the making through generating buy-in for legislation, designing effective programs, and educating potential users. Covid-19 might be accelerating the rate of adoption by pushing property owners and developers to explore it out of pure economic interest.
 
Nevertheless, key open questions remain for the future of C-PACE. One of these questions is the eligibility of projects that C-PACE can support. Nick Henner is Policy Analyst at the American Council for an Energy-Efficient Economy (ACEEE), which he describes as "an organization that acts as a catalyst to advance energy efficiency" based in Washington DC. He noted that he is optimistic about C-PACE's future. He believes that the "pipes" of legislation and program design are being laid, pointing to examples of C-PACE program development across the country such as in New York. He mentioned that he would like to see more programs expand project eligibility to include electric vehicle supply equipment (EVSE) and real estate improvements that ensure air-quality and circulation, especially important as the Covid-19 crisis continues.

Another key question is the future of federal funding for C-PACE program development. Former Vice President and 2020 Democratic Nominee Joe Biden recently announced a $2 trillion climate plan as part of his Build Back Better initiative that would create the equivalent of a national green bank to upgrade over 4 million commercial buildings paired with legislation to set a net-zero emissions standard for all new commercial buildings by 2030. This level of federal funding and legislation is necessary for C-PACE to truly take off given the harm that the pandemic has caused to state and local budgets.

Federal support is particularly important for smaller C-PACE projects (<$250,000) which get less interest from lenders, compared to larger, more profitable projects which have little trouble finding lenders. In addition, smaller properties and small businesses are less aware of C-PACE opportunities. Nonprofit state green banks, like the Colorado Clean Energy Fund, are focusing on giving small business owners access to clean energy financing. However, these organizations often rely on foundation grant funding and program related investments that are hard to sustain in the long run absent federal backing.

There is strong evidence to suggest that clean energy investment will play a critical role in the recovery from the pandemic. A recent McKinsey study notes that $10 million in spending on efficiency and renewables creates over 75 jobs, while the same spending on fossil fuels only generates 27. In addition, Renewables like solar and wind create more jobs per unit of energy delivered than coal or natural gas, according to a 2010 study published in the journal Energy Policy.
One potential risk for C-PACE is that the Covid-19 crisis could radically transform the nature of commercial real estate by permanently reducing the demand for office space and hospitality. This could reduce the demand for real estate financing as a category. However, it is highly likely that some new types of commercial real estate projects would crop up once a real recovery begins even in an extreme scenario.

We can expect more private capital from large institutions to flow to lenders like Greenworks and others in the next year, with a greater focus on small businesses and new construction. Commercial PACE seems to be particularly exciting now because it is a way to finance investment without the obstacles that come with other financing methods during a recession. The ability to pay back C-PACE using energy savings from the project itself, the lack of upfront payments, and low interest rates makes it an attractive proposition for big players. 

C-PACE still only exists in a minority of states, but can grow further. In addition to a Democratic win in November, C-PACE would benefit from more publicity and awareness of the economic benefits that clean energy financing brings to communities. Knowledge sharing by states like Connecticut and Colorado that are more mature in their C-PACE lifecycle with states with more nascent programs will be critical. Nonprofit think tanks and industry coalitions like the ACEEE, the Coalition for Green Capital, and the C-PACE Alliance play an important role in this knowledge sharing. In addition, promoting policy that creates larger PACE administrative regions, like regional districts and statewide "green banks", helps lift the burdens from individual municipalities, whose hesitance to take on a new program is often a barrier to C-PACE adoption.