In Brief
Now that the market has made solar competitive, society can make solar economics compassionate. 
Startup CEO Steph Speirs and scholar Shalanda Baker guided listeners through a turbulent week with two practical roadmaps to energy parity for all communities. 
Speirs' company, Solstice, uses software and outreach to build a clearer signal for low-income consumers to send to solar providers. Baker's projects use organizing and law to help consumers band together as communities and insist on truly clean, truly accountable power.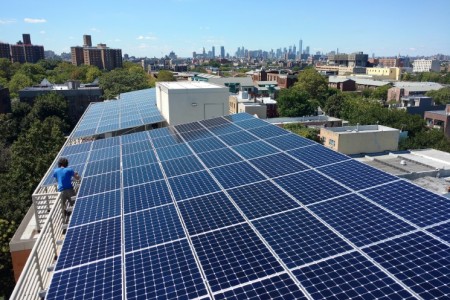 Renewables are the answer, but what's the question? In two webinars taking place the week after the Capitol riot, an entrepreneur and a scholar challenged audiences to picture how an enterprise and a policy regime could supply solar and other fossil-free energy to more people with more broadly dispersed downsides. The first speaker, Steph Speirs, runs a company called Solstice that uses software and outreach to find good prospective customers for community-solar plans. The other speaker, Shalanda Baker, runs an institute and teaches ways to organizer around fair siting, pricing and regulating of solar. 
For both these leaders, the business of creating and selling more clean energy fails to clear the threshold for durable and honorable business. 
Both stressed that companies and regulators can find strong demand among neighborhoods where most people earn less than $50,000 per year. Speirs, a 2007 Yale College graduate who grew up in Hawaii, told a career-focused audience that she had never wanted to start a company because she'd grown up watching the damage that failing startups wrought on her father and on her parents' marriage. After making it into private schools and universities, she focused on using business to broaden the market.
Estimating that 77 percent of Americans can't install rooftop solar because they live in rentals or in buildings without panel-friendly roofs, Speirs described Solstice as a market-maker and problem-solver to connect ratepayers with community solar. "When you have one of your feet in privilege, you have to realize that the point of having privilege is to help those who don't," she said. "How do we create opportunities for people who, through no fault of their own, are locked out?" 
Baker, starting an online dialogue with Yale School of the Environment lecturer Rob Klee, cast a parallel question: how can a new source of energy induce a new system for siting and pricing energy? In a discussion that tacked to the personal and political, Baker and Klee reviewed principles for renewable energy economics. All would support near-universal access to solar and wind, challenging some ingrained business models. 
"There is a tension between the transition away from fossil fuels and issues of social justice," Baker said, describing work among indigenous Mexican communities who were fighting displacement and pollution from a planned wind project. " should be at the heart of the clean energy transition, and we have an opportunity to use energy as a vehicle for civil rights." 
On that logic, Baker said, it's important to add energy to the list of "kitchen-table" issues such as eviction that social justice advocates address. That bridging needs to happen in part, she said, because energy policy "has been dominated by technocrats." That, in turn, means all parties need to become fluent in rate design, efficiency, outreach on efficiency and proceedings. 
Unlike Solstice's work to spotlight reliable customers to pay for community solar, Baker's challenges focus on goals other than utility profits. "We allow for utilities to have this reasonable return, and that's allowed for deep investment in rural communities and other things for 100 years," she said. "Now we need to do away with the investor-owned utility or incentivize it to engage in socially beneficial behavior." That could mean backstopping energy resilience or compelling protection for refrigeration and other essential services during power shut-offs. 
Both leaders pointed toward community solar, in which a developer sets up an array in one place to serve customers in another, as a key future marketplace. In Solstice's story of ascendance and Baker's dialogue, please find openings for entrepreneurial approaches to project finance, marketing, rate design and protection- and let us know what seems worth airing.