In Brief
Carbon savings indubitably occur when electric vehicles displace traditional ones. Why not sell credits against those savings? 
The Connecticut Green Bank's working with coalition partners to build a credit market around those carbon savings. 
As the market scales, it can lever up EV activity and provide financing for other carbon-reducing projects. Check out how.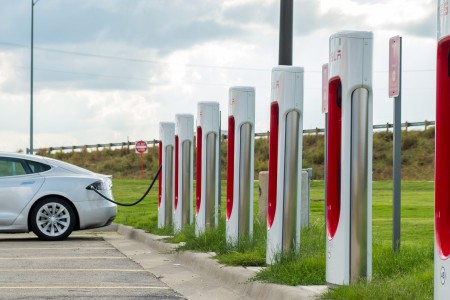 If electric vehicles reduce carbon pollution, shouldn't they get credit for doing so? The Connecticut has started working on a partnership that lets owners, suppliers and charging vendors create and market credits for the miles the vehicles travel. 
The Bank registered the First Validated Multi-Partner Carbon Offset Credit Project in December 2020, through a partnership program called the Electric Vehicle Charging Carbon Coalition. The group aims to bring new private capital through the aggregation model into the EV economy, and thus support a range of  emission reduction initiatives.  When parties or organizations use cleaner transportation, the model spits out credits that others can buy.
If the related infrastructure, such as EV charging networks, becomes available in the same manner as fuel stations then drivers see motivation to use cars that have fewer emissions to the atmosphere. EVs can foster a win-win solution for different stakeholders trying to reduce their emissions.  That's where the credit can arise.
An organization, individual or any entity using EVs has avoided emissions that would have occurred from using fossil fuels to travel an equivalent distance. The avoided emissions or the carbon credits earned by the entity become available to interested parties through a financing mechanism. This creates a self-regulated carbon market.
This raises questions such as: 
•    Is there a way to formalize the self-driven efforts of individual, organizations to offset their emissions? 
•    How the carbon credits earned by an individual can be made available to another group or individual? 
•    Who will facilitate this 'invisible' carbon credits transaction? 
•    What about accounting of those credits and the reliability of those credits? 
•    How reliable can the system be without any government intervention?
And many more such questions.
What's the investment logic for the Bank? A lot has to do with the conviction that policies and market momentum will keep ratcheting up demand for electric-vehicle networks. Transportation , the fastest growing end use of energy, accounts for 28% of total final energy demand according to the IEA report Energy Technology Perspectives 2012.  The IPCC Fifth Assessment Report saw more energy demand from road transport than from freight. Given this major energy demand, mostly fueled by gasoline, efforts to decarbonize the transportation industry and more specifically passenger cars and vehicles require rethinking fuels and capitalizing an electric network. 
The pilot program for chargers fits within a solution-oriented program focused on EV infrastructure. The pilot offers a credible carbon credit market for electric vehicle (EV) charging systems. Finance mechanisms could involve investing on cleaner technologies such as solar panels, wind turbines, biofuels, or electric vehicles themselves, and major target buyers include fleet operators, the e-commerce companies determined to make their supply chains greener. These groups invest in installing workplace charging, electric school bus charging and widening of charging networks. 
"Offsets are a new transaction asset for Connecticut Green Bank, although they have some parallels to Renewable Energy Certificates (RECs). This initiative is structured a bit like a co-operative, whereby we return proceeds to participants after we cover administrative costs", says Matt Macunas, Legislative Liaison & Associate Director of Transportation Initiatives of Connecticut Green Bank.
The pilot project was founded in 2016 as a coalition among various organizations determined to flush fossil fuels from transportation and verify the carbon savings. The Electric Vehicle Charging Carbon Coalition (EVCCC)'s founding cohort includes the Carbon Neutral Cities Alliance (CNCA), Connecticut Green Bank, Electrify America, EVgo, Exelon, and Siemens. The Climate Neutral Business Network (CNBN) coordinates things, and Verra provides its recipe for verification.
Within this coalition, the Bank rolled out its program in a separate partnership. This one consists of Volta, U-Go Stations, Proterra, Ev Structure Company and Dominion Energy. These collaborators can address technical and scale questions that define how the program ensures that the data maintained is consistent and accurate.
The advanced EV chargers have integrated metering systems to record the electricity delivered by the chargers per unit time. Some EV chargers have cloud-based data which keeps account of electricity delivered to EVs. For the chargers without advanced metering systems, estimations on the amount of electricity delivered and the equivalent GHG emissions eliminated come as proxy values based on other EVs with integrated metering . These help to determine the electricity delivered by the chargers.. The CT Green Bank ensures that the data collected is robust through the verification of reported data in their self-designed templates for data reporting.
Reliability makes the credit tradable. Data, then, helps credits gain value as demand grows. According to the program design,  EV chargers have metering systems that measure and accurately trace all electricity deliveries and receipts from all such interrelated associated infrastructure sources. This includes electricity sourced from/returned to the grid, dedicated renewable energy generated on-site (including RE sourced from direct transmission lines), on-site storage batteries, and/or the EV's on-board battery. EV chargers earn funds based upon the amount of electricity dispensed to vehicles, factoring in the carbon intensity of the electricity used. This 2018 press release shows the logic model for how capital can flow- and how Verra can stamp it as good. 
The pilot program pictures charger operators recording credits, which flow through the project developers who can sell their credits directly to buyers through a broker or an exchange. Developers can also sell to a retailer who then resells the credits to a buyer. The Green Bank aggregates activity by EV owners, charging network owners, project brokers, EV charger manufacturers etc., creating progress toward economies of scale.
The pilot program will be kicking-off in June 2021, so the Bank is working on many verticals to ensure the credibility of data reported by different project partners.  It's also  working with VCS to validate the data reported for 2016 to 2018 as a requirement by VCS.
From today's base of 725 EV charging stations across the United States, CT Green Bank is assembling monitoring systems for chargers to systematize the processes. The organization is engaging with network operators, new interest partners, software developers, battery manufacturers, fleets manufacturers, retailers and analysts to identify gaps and opportunities in the EVs ecosystem. 
Undoubtedly, the carbon credit market structure is diverse, and therefore, CT Green Bank is in the process of determining the final determination of partners. That should happen in the first half of 2021.
In the next few years, this credit-trading approach can take to the skies. Aviation in particular, has shown an inclining demand for offsetting the associated emissions and demand for nature-based solutions. Environmental Defense Fund has been working on solutions to address the environmental impacts from aviation, and the approach largely involves market-based measures.  Aviation companies entered a similar compact in 2016. 
The expected participation by the countries to tackle the emissions through market-based approach will cover 77% of the anticipated emissions growth during 2021-2035. Overall, thanks to the rising consciousness of the shareholders and their stakeholders , the voluntary carbon credit market is expected to grow well beyond this pilot.