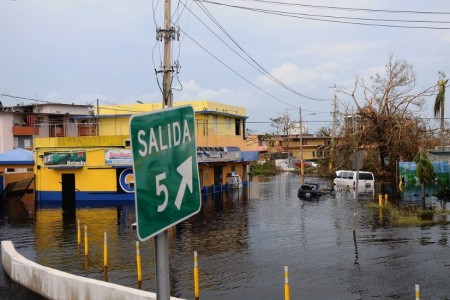 "Puerto Rico is suffering," said José H. Román, interim president of the Puerto Rico Energy Commission, to a crowded room of attendees at the Future of Energy Global Summit in New York City on April 9. The summit explored how the global renewable energy market is changing even as it faces policy headwinds in North America. For Puerto Rico, a United States territory, hope for the future seems distant given its currently harsh economy and inadequate infrastructure.  
Nearly seven months after Hurricane Maria, close to 90 percent of Puerto Rico has some power, but rural areas still lack access.
Susan Kish, summit host and executive in residence at Excel Venture Management, said Román's apartment building is still without power. He has been climbing stairs to the 21st floor because the elevator is not working.
While the present situation is excruciating from an energy access standpoint, solutions are in process. However, a clear tension exists between restoring power for all Puerto Ricans and ensuring that the grid has long-term storm resilience.
"How do we build for the future? How do we transform the island? Those are the key questions we are facing right now," Román said in his opening remarks for the plenary session.
Román said he hopes decisions made by Puerto Rico in the near term will not handicap renewable energy options moving forward. He also said he wants to make sure that consumers are empowered to make their own energy decisions.
"I am very concerned where things are going. I would have liked the process to have been different - with an actual development of the types of products and services that Puerto Rico needs under the appropriate market structure. But that's not happening - or at least I am not aware of it happening," Román said.
Explaining the optimistic side of the situation, Román said microgrids offer hope for the island's grid.
The United States Department of Energy defines a microgrid as a set of connected electrical loads and power sources that has clearly defined electrical boundaries. It can be linked to a grid or operate on its own.
This optimistic view has been presented unrealistically recently by several United States media outlets that are emphasizing the small number of microgrids that are currently working on the island rather than acknowledging all the work that remains to construct more of them.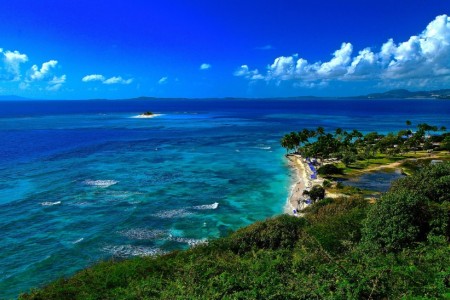 Microgrid installations and distributed generation
After his initial remarks, Román spoke with Colleen Regan, head of United States utilities and market reform at Bloomberg New Energy Finance, about how decision makers in Puerto Rico could move forward.
"Designing a system for the future takes time," Román said. He said the rules that would develop a framework for microgrids would be completed in the next week after the conference. "Hopefully, that will provide a solution for all of those communities that are harder to access."
When asked about the role of microgrids outside of rural communities, such as in major cities, Román  expressed enthusiasm. "I like consumer empowerment. I want people to not only have options but select the best options for their situations. I would like to see [microgrids] in the cities."
A key question, Román said, will be whether the clients choose to go off-grid with the microgrids or just use them for backup power. 
The conversation turned to the unique issues surrounding Puerto Rico Electric Power Authority (PREPA), the island's publicly owned power utility. According to Román, Puerto Rico must navigate a tightrope between long-term and short-term development while keeping rates at an affordable level.
According to United States census data from 2016, 43.5 percent of the population of Puerto Rico is living below the federal poverty line.
Worse yet, PREPA has recently filed for bankruptcy. The fiscal headwinds the utility is facing make developing renewable capacity and a resilient grid even more challenging, even without taking into account all of last year's hurricane damages.
In an interview following the plenary session, Román said that since Hurricane Maria, there has been a change in the amount of attention paid to renewable energy in Puerto Rico. "We are seeing a lot of renewable energy companies, including Tesla. Traditional energy companies have also been there. Everyone is trying to find a solution for Puerto Rico."
One key objective is to get Puerto Rico's clean energy production and targets more closely aligned. Roman said that even through Puerto Rico has a goal of 20 percent renewable energy by 2020, the island is only at 4 percent now. Most of the current renewable energy production uses solar panels and hydropower.
"How do we establish the necessary framework for a resilient grid?" Román said. "How do renewable energies fit into all of that?"
It won't be an easy problem to solve. "The question for policymakers is: 'Where do we want to be in 10 years or 20 years?' Once they decide the route, how do we get there? We can develop the ability to get there."
Microgrids may be able to play a key role in deploying renewable energy and making the grid more resilient.
Román said that though there will soon be greater certainty, microgrid development on the island is still in early phases. There is not an official pilot program yet. "Microgrid developers and microgrid equipment developers [have been] selling the ideas and putting them in place throughout the island."
Some studies show that Puerto Rico is ripe for both microgrid deployment and solar PV.
While there has not been a large-scale setup of microgrids in Puerto Rico yet, there have been some smaller demos set up that have performed well.
A recent article from Microgrid Knowledge said microgrids remained resilient during a recent power outage that the island experienced on April 18.
According to National Renewable Energy Laboratory, Puerto Rico has a moderate climate for solar energy. Officials in Puerto Rico have come around to the idea of deploying more solar energy following Hurricane Maria. And companies like Tesla have tried to push the conversation forward. 
Maintenance problems and policy challenges
Despite the promise renewable energy holds in Puerto Rico, the complicated history of the public utility, the state of the economy, and problems with policymaking have stymied growth.
"To understand what has happened, you have to go back to the conditions that were there," Román said.
Over the past few years, Puerto Rico has been undergoing enormous economic challenges due to a buildup of debt over a long period of time.
In 2016, Congress passed a bill known as PROMESA that created a financial board that has the final say in many policymaking decisions for the island. In addition, PREPA, the legislature, and the Puerto Rico Energy Commission all weigh in on the future of Puerto Rico's grid.
During the conference session, Román said two specific problems have plagued the grid. First, a backlog of tree trimming exacerbates hurricane damage. Second, the culture of involvement by political parties "led to decisions of not investing back into the utility."
Debate continues in Puerto Rico and in the United States about what steps the territory should take next. For now, Puerto Rico is working on improving electricity access. Then, discussions can continue about how to go about fixing some of these longer-term challenges.  
Join our LinkedIn group to discuss this article. You may also email the author directly using our contact form.