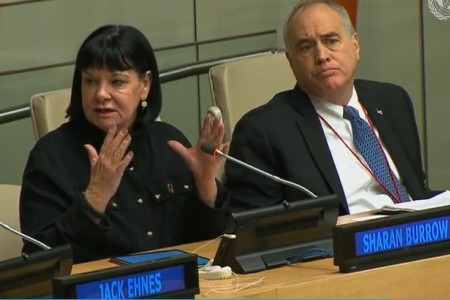 "There are no jobs on a dead planet," said Sharan Burrow, general secretary of the International Trade Union Confederation (ITUC). Burrow is vice-chair of The B Team, a coalition of business and civil society leaders that was founded by Richard Branson and Jochen Zeitz.
In an attempt to address the dual dangers of economic injustice and environmental disaster that Burrow's remark references, The B Team launched the Pledge for a Just Transition to Decent Jobs in August 2018.
The pledge brings together renewable energy-market stakeholders to promote a sustainable and just future. Created ahead of the Global Climate Action Summit with nonprofit and union input, the pledge has been signed by companies such as Enel, Ørsted, Autodesk, Safaricom and Unilever.
Since 10 million workers are employed in renewable energy, the industry's labor practices and The B Team's advocacy efforts can have far-reaching consequences.
The voluntary agreement commits companies to open dialogue with their unions, labor standards from International Labour Organization, adequate worker benefits including healthcare and pensions, and guarantees of prevailing wages. In outlining these steps towards a more socially and environmentally conscious future, The B Team is focusing on major renewable energy providers and consumers.
Ben Thompson, senior manager for sustainability at Autodesk, said the pledge could help renewable energy producers. While Autodesk has used 100 percent renewable energy consumption for several years, Thompson said the company wants to make sure its energy providers uphold ethical workplace standards.
Thompson said most renewable energy companies "are acting ethically but haven't formally signed onto these standards." The for a Just Transition can provide guidance to help these providers solidify their commitment to workers' rights.
In many communities, environmental protection and job security are framed as contradictory priorities. Emily Hickson, senior manager of Net-Zero by 2050 at The B Team, instead said that "we can both aspire to 100 percent renewable energy while also supplying decent jobs."
The pledge and similar Just Transition advocacy hopes to advance both environmental and economic justice. On workplace conditions and economic stability, Hickson said that "companies ignore these issues to their peril."
Thompson said similar reasoning exists for Autodesk's dual commitment to renewable energy consumption and issues such as dignity of work. "Environmental and social issues are inextricably linked."
By securing corporate buy-in to tackle these issues jointly, The B Team's approach represents one of the most proactive corporate initiatives to push for a carbon-neutral future and address economic inequalities.
The pledge's development has relied on collaboration between civil society, labor leaders, and participating companies. Samantha Smith, director of the Just Transition Centre, an initiative of the ITUC, was involved in developing the pledge. She said that "the language of the pledge came from the labor movement." Once created, The B Team led outreach to encourage companies to sign onto the agreement.
In the video below, Smith further describes the international union movement's history and investment in Just Transition advocacy.
While the agreement is voluntary for companies to join and implement, unions intend to hold these companies accountable to their promises, according to Hickson.
Smith said that trade union density is strong in some countries, particularly in Europe, where many renewable energy companies are based. This makes it possible for unions in the countries where companies are based to hold them accountable for labor practices outside of Europe and along global supply chains.
The pledge and Just Transition advocacy are not occurring without criticism. For example, Tadzio Müller, senior advisor for climate justice and energy democracy at Rosa Luxemburg Stiftung, said Just Transition initiatives distract stakeholders from more urgent climate goals.
Unlike Müller's framework, the Pledge for a Just Transition attempts to account for the interconnections between carbon emissions, free markets, renewable energy, and economic inequality.
Other critics, such as Sean Sweeney and John Treat of Trade Unions for Energy Democracy, write that efforts such as the pledge are not ambitious enough. Sweeney and Treat said that "a Just Transition cannot be accomplished without a deep restructuring of the global political economy."
They said they view social dialogue between companies and unions as tepid conversations that are unable to secure meaningful economic change. They also said as The B Team co-founder Richard Branson's personal history of anti-union activities may be an indicator that limited, voluntary agreements are unlikely to bring about necessary environmental or economic change from companies.
Despite these critiques, Hickson said she believes the Pledge for a Just Transition will have positive implications in the renewable energy sector by creating "both a supply and demand signal." She says this impact will affect the wider market beyond the initial pledge signatories.
Additionally, the pledge provides a foundation that its organizers hope to build on in the future. Thompson said she thinks the pledge can form a snowball effect, encouraging other companies to take part and eventually securing better policies. Likewise, Smith said she sees voluntary agreements as a precursor to collective bargaining agreements and possible policy reforms. 
The Pledge for a Just Transition to Decent Jobs presents a step forward for corporate social responsibility in the context of environmental and economic justice. The pledge's founding partners encompass a diverse array of civil society and corporate leaders. As climate change and labor conditions continue to be elevated in transnational political discourse, the pledge and similar Just Transition proposals will likely grow in prominence and importance.
To comment on this article, please post in our LinkedIn group, contact us on Twitter, or use our contact form.