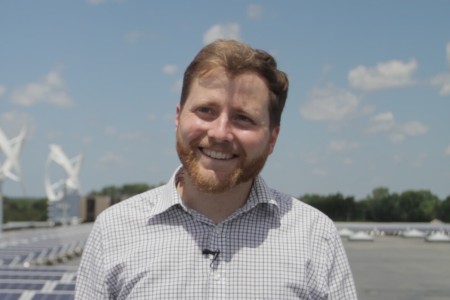 This policy memo was completed as part of the Yale Center for Business and the Environment's online Financing and Deploying Clean Energy certificate program, which trains and connects rising leaders to catalyze the transition to a clean economy. The application for the certificate's 2020-2021 cohort is now open. Learn more and apply here by March 1, 2020.
We invite policy-makers and stakeholders to consider the ideas in these memos and respond. Views expressed in the memos are the authors' own and do not necessarily reflect the positions of their employers. Find more memos here.
Subject:  Establishing Residential Financing in Michigan
To:  Michigan Legislature
From:  Cory Connolly, Financing and Deploying Clean Energy certificate program participant
Date:  January 3, 2020
This memo proposes to unlock energy-saving upgrades for Michigan homeowners by passing residential property assessed clean energy (R-PACE) legislation. The legislation should guarantee energy savings and protect consumers by including a method for determining eligible energy-saving measures; restrictions to R-PACE financing amounts and underwriting criteria; and robust consumer protection provisions.
High Energy Costs and Limited Financing
Today, aging and inefficient homes mean increased expenses for Michigan homeowners. According to the Energy Information Administration, more than 80% of Michigan's homes were built before 1990. In a study by the Citizens' Utility Board of Michigan, Michigan ranked 12th-highest in residential electric rates at 15.4 cents per kilowatt-hour and 16th-highest for household energy cost overall, and the costs keep rising. According to the same report, Michigan has the sixth-fastest growth rate for residential electricity costs in the country, with annual growth from 2007 to 2017 coming in at 3.36%.
Despite aging homes and rising costs, many energy-saving projects still don't make sense for Michigan homeowners. High upfront costs and long paybacks make energy efficiency upgrades difficult to justify, so homeowners continue wasting energy and money. Some energy-focused loan programs exist to help address these challenges, but financing options remain limited for many Michigan homeowners. Typical loan options for home energy upgrades often have short terms, limited loan amounts, high and variable interest rates, or challenging underwriting criteria. Without more financing solutions, Michigan homeowners will continue to waste energy and money.
PACE Financing as a Solution
R-PACE can provide a financing option for Michigan homeowners faced with increasing energy costs, inefficient buildings and limited resources to pay for energy-saving projects. An R-PACE program would allow local governments to help homeowners access loans for energy efficiency upgrades, repaid by property owners on property tax bills. This financing tool would enable 100%, long-term, fixed interest rate financing for energy-saving projects. R-PACE legislation would allow local governments to voluntarily offer R-PACE to their residents. Participating local governments would agree to use the property tax assessment mechanism to make PACE lenders' investments more secure. The added security could allow PACE lenders to finance up to 100% of the cost of a project at a fixed interest rate for up to 30 years. The homeowner would simply take out a loan for an energy-saving project and repay the loan via a tax assessment on their tax bill. If the property is sold, the remaining payments are then passed to the new owner. This method of financing, though still new, has driven more than $5 billion in energy-saving investments for more than 220,000 homes nationally.
Building on Michigan's PACE Successes
In Michigan, commercial properties are able to take advantage of PACE financing, but residential properties have been left out. In 2010, Michigan passed Public Act 270 to allow PACE for commercial properties, but the legislation did not include residential properties. Since 2010, commercial PACE or "C-PACE" has enabled more than $36 million in financing for energy-saving projects across Michigan. C-PACE programs are established in more than 40 local governments covering over 70% of Michigan's population. The Michigan legislature – thanks to the success of the C-PACE market – already has a supportive community of lenders, energy businesses, and local governments ready to deploy R-PACE.
Passing a Nation-Leading R-PACE Bill
In ways that C-PACE financing has not, R-PACE financing has faced pushback from the mortgage banking industry and consumer protection groups. Any proposed legislation should take these concerns seriously. The mortgage industry has expressed concerns with how an R-PACE loan influences the position of a mortgage on the same property. Consumer protection groups have cited examples where R-PACE borrowers do not receive the energy savings that were advertised to them or borrowers do not understand their financial obligations. Any R-PACE legislation should reference the guidance issued by organizations such as PACENation, the National Association of State Energy Offices, and the U.S. Department of Energy on how to provide consumer protection and protect the interest of the mortgage lender. While Michigan will benefit from passing R-PACE legislation, the wrong approach could doom it politically or result in unintended consequences if passed.
The Michigan legislature – thanks to the success of the C-PACE market – already has a supportive community of lenders, energy businesses, and local governments ready to deploy R-PACE.
To overcome the pushback that R-PACE has faced in recent years and to provide homeowners in Michigan a consumer-friendly financing option to save energy and money, a Michigan R-PACE bill should include the following: 
1. A method for determining eligible energy-saving measures. An R-PACE bill should guarantee that the measures it finances are truly in the public interest and save homeowners energy and money. In the C-PACE market in Michigan, the performance of an energy project is subject to an agreement between the energy contractor and the borrower in which the energy contractor guarantees the energy savings will exceed the PACE loan payments. Such an energy-savings guarantee is impractical for residential properties as it can add significant fixed costs to a project. Instead, an R-PACE bill should require eligible measures be listed on a relevant database such as the Michigan Energy Measures Database, a list of energy-saving measures maintained with oversight from the Michigan Public Service Commission.
2. Restrictions to residential PACE financing amounts and underwriting criteria. To minimize the risk to mortgage lenders and protect consumers, the bill should limit the size of R-PACE loans, add minimum underwriting criteria, and require the sign-off of any mortgage lender on a property receiving financing. The bill should look to best practices issued by the U.S. Department of Energy limiting the amount of an R-PACE loan relative the value of a home, and prevent the sum of an R-PACE loan and a mortgage from exceeding the value of the home. Finally, the requirement that mortgage lenders approve of R-PACE loans adds another layer of oversight and serves as a strategy to secure buy-in from the broader mortgage banking community.
3. Robust consumer protection. Clearly defining eligible energy-saving measures and placing strict parameters on financing and underwriting criteria will help protect consumers, but an R-PACE bill should do more. The Department of Energy's best practices also include provisions on disclosures, contractor training and the right to cancel an R-PACE financing agreement. These and other more detailed consumer protection guidelines should be developed by the Michigan Department of Environment, Great Lakes, and Energy or another relevant agency through a stakeholder process.
R-PACE presents a major opportunity for Michigan to drive investment in energy-saving and cost-saving projects for homeowners. The Michigan legislature should recognize the differences between R-PACE and C-PACE and implement R-PACE legislation that delivers energy savings, responsible lending and consumer protections.
To comment on this article, please post in our LinkedIn group, contact us on Twitter, or use our contact form.