In Brief
Solar developers face bright prospects as United States tax policy, consumer demand, and pricing converge. But! 
Complexities in rollout and interpretation keep solar executives busy and keep risk real. 
We caught up with a leader at a large developer - and a participant in our certificate program - for insights.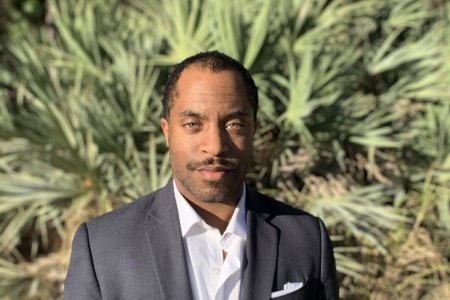 Headquartered in Arlington, Virginia, the AES is an American utility and power generation company that develops, owns, and operates power plants to generate and distribute electricity. A key player in the energy sector, the AES is generating and distributing electricity in 15 countries, with 10,500 employees worldwide with total assets of $37.775 billion as of September 30th, 2022.
CEFF: Hi Zach, thank you for doing this. So, tell me a little bit about your role and experience at the AES.
Pierce: Hi Daniel, my pleasure. I think AES finds success in our efficiency through vertical integration: from experts in permitting, construction, procurement, energy generation… there is a respectable depth and breadth of talent that ensures thorough, collaborative vetting throughout all processes of a project. My role as a Senior Development Manager is to coordinate those talents to ensure that a project is delivered on budget, on time, as fast as possible. I think many development managers would agree that this role requires a flexible, generalist, and hands-on approach across the entire process.
CEFF: The AES assumes a BOO (Build-Own-Operate) model, with skin in every step of the energy delivery process from permitting, preconstruction, procurement, construction… How does the breadth of your activities inform your engagement with production tax credit and investment tax credit revisions under the Inflation Reduction Act? 
Pierce: Well, because of the eligibility timeline for the ITC and PTC, we are experiencing a very, very focused period of acquisition and development of energy infrastructure. With the excitement came the bottleneck: interconnection studies are frequently being pushed back, with many projects being taken for a ride by Independent System Operators. There have been some disorienting instances where a firm procured a project that seemed primed for success: completed conducted facility studies, feasibility studies, ISA and CSA, but just could not get the OK from an ISO. So, there is some tension in the air, since we are compelled to purchase a lot of projects under a rushed timeline and under some inconsistent standards.
CEFF: Is the ten-year timeline provided by the IRA rushed? How are you navigating the scale of these projects, the modeling required to determine optimal credits to apply for, and the ambiguity of domestic content requirements?
Pierce: The answer is both yes and no: the distance between what we have now and the projects we hope to develop and operate is vast, but the hard work done here at the AES, the inflow of tax credit opportunities, cooperation among developers, as well as the exciting advancements - be it business, technological, political - preserves my optimism. On a more technical note, we are modeling on a case-by-case basis to determine the preferability between ITC and PTC. The depreciation aspect is of special significance. For example, the depreciable basis for the ITC is 1/2 , so if the ITC is 30%, the depreciable basis is 85%. This means that the depreciable basis would be 85% of the CapEx that is ITC eligible. Then, you can multiply that against the tax bracket of the tax equity investor, whether it be 20%s or in the 30%s, depending on your level of income.
For the PTC, the depreciable basis is 100%, so there's no reduction - which is another factor to consider. Another important aspect of the PTC is that there is the possibility of curtailment: be it locational basis issues or physical constraints that result in production curtailment, diminished production means diluted PTC benefits. Net capacity factor becomes a significant metric under these conditions. On one of our projects in Virginia, our net capacity factor is about 24.2%, so about $1.20 on the CohnReznick graph you showcased in your article. If we can get that to about 25%, we should probably transition over to PTC. These factors then inform our decision to consider string inverters to push our net capacity over to the other side. Another example of  equipment selection is the power optimizer produced by Solar Edge. Basically, power optimizers offset losses caused by mitigating factors such as shade mitigation. These selection processes are critical to finding the most optimal credit for a project, and is also an opportunity to satisfy domestic content requirements. More succinctly: we're navigating the rushed timeline by being adaptable.
CEFF: Since the bill's introduction, has there been enough guidance for players to immediately take action? What are your thoughts on the debatable portions of domestic content requirements?
Pierce: At present, we are still very much awaiting guidance. Although the gestures of the bill were certainly made clear, there is still much discussion and clarification to be had, let's say, concerning the manufactured in America part. The provisions currently seem to demand that 40% of the manufactured components in the facility to be manufactured within America to be eligible for the 10% bonus, but there is some ambiguity concerning the exact extent, whether it pertains to assemblage, base material, or both, whether it is exclusive to the United States, etc.. As we strategize to put our best foot forward, we are eagerly waiting for further clarity from the IRS. There was a cheeky instance, actually, where some solar developers were trying to make the argument that the project itself was a domestic content, since it was entirely manufactured (constructed) in the United States. I think we're safe in assuming that this argument will be shot down, but it's an interesting example of the need for guidance.
CEFF: Any other exciting things you would like to outline about the IRA? Let's say, the direct tax credit payments and the energy communities provisions.
Pierce: I think the topic of direct tax credit payments to qualified entities is an exciting provision under the IRA. It essentially amplifies state, local, tribal governments, non-profit organizations, and tax-exempt organizations' capacity to gain access to funding. What this means is that capital will be more immediately and readily available to these entities to stimulate development, rather than being conditionally phased and obliging them to tax equity, which can be a more lengthy process. How this can be applicable to the AES, however, is still something we are awaiting guidance on. The provision concerning facility placement in energy communities is also a very exciting one: I know that we have projects undergoing development that can benefit from the 10% increase in ITC, so we're hoping to address it thoroughly.
CEFF: What is it like to navigate implementation in a sector that is dead-center in the crossfires of polarized opinions? And lastly, what tips would you have for developers navigating intricate stakeholder relationships to deliver their projects?
Pierce: On the effect of the IRA on navigating stakeholder engagement, it has certainly intensified tension among those who support the bill, and those who don't. With such an unprecedented injection of capital and energized political will, there is bound to be some intense disagreements: be it concerning the science, site-selection, aesthetics of the project, the virtues of sustainability… But as a developer, I think it's critical to understand that the mission is not to convince others a certain perspective is correct, or to engage in zero-sum, conflictual politics. All the nuances of politics absolutely have to be thrown out the door. What is important, at least to me, is: Will the project make communities more resilient through access to renewable, stable sources of energy? Will it contribute to sustainability? Will I have made the world a little bit better? If the answer to any of these is yes, then the next question is: How can I deliver this project? And as soon as the How takes center stage, it is a matter of formulating a strategy in which most people - if not everybody - can be better off. There is no playbook, it is a very arduous process, and the satisfaction of the reward will depend on what you choose to prioritize: a small win against someone with conflicting worldviews? Or a larger one through the advancement of sustainability?
CEFF: Any last words of advice to our readership?
Pierce: At the end of the day, It's most important to recognize that communication has two components: first is what you communicate, which is more important to those already inclined to listen to you, and the second is how you communicate, which is more important to those not inclined to listen. Taking pulse of the fact that both of these components are critical to the process of communication, I think, will be crucial to everyone navigating polarized environments. Also, development is about preparing for and building something that does not yet exist under webs of standards, policies, and stakeholders: infectious optimism and sheer persistence - never lose it.